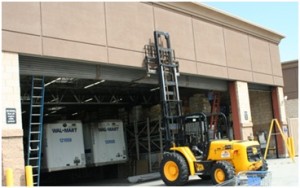 So, you've finally made the decision to install a roll-up door. Can't decide if you should get a steel roll-up door or fiberglass? Should they be insulated or not? Is it the right choice for your office setting? Before you decide on any of these factors, read to find out about their benefits and limitation to make a well-informed decision:
Pros
Durability: Roll-up garage doors are extremely durable. They're built in a manner to withstand all harsh weather conditions. Most of the roll-up doors that are installed are made of steel, which does not require much maintenance, and ultimately increases the life of the door.
Customizable: Roll-up doors are available in wide options. Depending on the type and nature of your business, location, and weather conditions, you can choose the type of material you need for your roll-up door.
In addition to this, you can even get it customized with the color you like. Branding is an important component of commercial doors. You can get steel roll-up doors but can change its look so that it remains consistent with your company branding.
Strong and Secure: Roll-up doors, hands down, win on the security front, compared to all other types of doors. They do not feature handles on the outside which makes it harder for the intruders to storm in. Furthermore, the motor of the door functions as a lock for the door which increases its security.
Cons
Price: On the downside, price is a factor due to which you may not want to invest in a roll-up door. They're a bit expensive. However, due to their durability factor, you can save in the long run. They require minimal maintenance and do not need to be replaced frequently.
Installation: The installation of a roll-up door is complicated. So, why not leave this job to the professionals? For installation purposes, a team of experienced professionals is required, as these doors cannot be installed by a single person. When installing, one thing should be kept in mind; paint the panels beforehand. And if you want the door to be painted, always do it before installation.
Looking for high quality roll-up doors at the best price? We at Barr Commercial Doors, offer a wide variety of industry roll-up doors. We also offer repair services to help our customers avoid costly replacements.