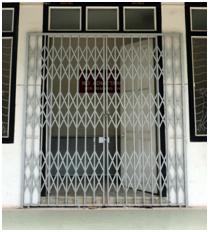 Scissor gates are becoming increasingly popular among commercial spaces for a variety of reasons. In addition to offering security, scissor gates render a unique look to the commercial space. This is the reason why they are widely being used on storefronts and in business facilities that are looking for exclusivity along with extra protection.
If you are wondering why you should get scissor gate for your commercial property, have a look at how they can add value to your business.
1.     Enhanced Security
Scissor gates are particularly known for their capacity to protect the exterior and interior of the property from theft and damages after closing time. Since these gates are made of steel, they cannot be tempered with by intruders. However, these steel folding gates are the most viable option to protect the building when it is unoccupied.
2.     Prevent Unauthorized Access
Scissor gates are not only used as exterior doors, but are also installed to close off specific areas in the building. With these robust gates, business owners can make their property safe by restricting the movement of unauthorized personnel within the building. Also, it offers peace of mind by preventing people from accessing certain areas in the building without formal approval.
3.     Add a Unique Look
Mostly, scissor gates come in all-black color that goes well with most commercial facilities and storefronts for a professional look. However, business owners can also get their scissor gates powder coated with specific colors to make it suitable for a specific surrounding. With custom style, these grills may not only fit the needs and preferences of the store, but also ensure that the building remains consistent with the identity of the business.
4.     Durable and Long Lasting
For its design and structure, scissor gates are known to be durable and long lasting as long as necessary maintenance is performed from time to time. Considering this, it is important that you perform regular preventive maintenance to keep your gates efficient and effective for an extended period of time.
5.     Easy to Operate
Despite their sturdy structure, scissor gates are quite easy to operate. Even employees with special considerations can operate a scissor gate without any difficulty.
In order to keep scissor gates in good shape, it is important for businesses to perform regular maintenance to ensure optimal performance and safety.
If you are looking for a reliable scissor gate installation service, contact us online or call us at (800) 825-3667.